Flyfishing in Prince Edward Island is one of Canada's best kept secrets. Let me be your guide for a customized fishing adventure tailored just for you. I have been flyfishing in eastern PEI for more than 30 years and know this area well.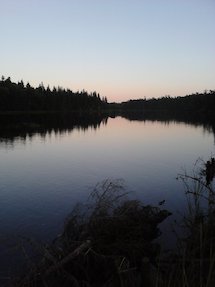 Whether you like to fish from the shores of our many ponds, brooks and rivers, or wade in our streams, or fish from a boat, I will put together a fishing adventure to suit your abilities. From the novice to the advanced flyfisher we have just what you are looking for here on our beautiful island.
Some of the adventures I can offer are:
For the beginner: I will teach you how to tie a fly and how to use a fly rod (it's not as hard as you may think!). We will then (hopefully) catch a fish and I will teach you how to release it properly, after we get a few pictures of course.
 If you are a more experienced flyfisher, I can take you to our many ponds, brooks or rivers. We have a few ponds stocked with rainbow trout that exceed 15lbs and we can try some rivers for Atlantic Salmon. White Perch are abundant in some rivers and ponds in the area, with some reaching up to 3lbs – lots of fun on the fly! Mackerel fishing off local wharves can be fun for the whole family and quite a challenge on the fly.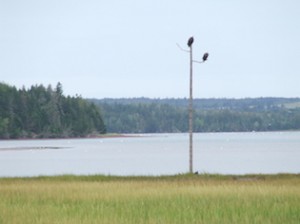 Most streams on the Island tend to be short and originate from mineral rich springs that discharge 7˚C water all year round. This makes for excellent habitat for brook (speckled) trout, with some reaching up to 6lbs. Some of these trout venture out to sea to feed on shrimp and bait fish. From mid-May to late-July sea run brookies and rainbow trout can be caught in the mouths of our many rivers. In the hot days of August, brookies tend to head to the smaller brooks which are cooled by the springs that feed them. In late-August and September the rainbow trout can be found at the head of some rivers getting ready to travel up into the brooks for the winter and to spawn in the spring. P.E.I. also has a catch and release fishery for the Atlantic Salmon which inhabit some of the local rivers. The best time for fishing salmon is from mid-June to late-July.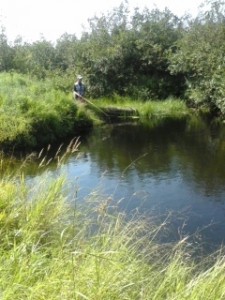 Some of the unique features of P.E.I. are:
  No Bears!!!
Areas where you can fish for trout while only steps away from beautiful beaches (great if not all members of your group are wanting to cast a line).
P.E.I. is a great place for Birders as well.
We are a world-renowned tourist destination and have many attractions for the whole family.
Beautiful beaches with the warmest waters north of Virginia.
Some of the finest entertainment you will find anywhere, with festivals and concerts going on all summer long.
.
We have accommodations ranging from camping sites to 5-star hotels and some of the best dining and seafood you will find anywhere. There is something for the whole family, so come and enjoy what P.E.I. has to offer – you'll be glad you did!
Kings County, PEI, with Points East Coastal Drive highlighted.

View Larger Map
Kings County is where I do most of my fishing. We have many brooks, ponds and a few rivers that make for some very good flyfishing. I have lived here for most of my life and I know this area very well. There are lots of attractions and places to eat in Kings County and the scenery is spectacular along our coastline and in our hills and valleys. Some of the best beaches are located here as well. Basin Head was named "Best Beach in Canada" in 2013. With its singing sands and fishery museum, it is a place you must see for yourself. The national park in Greenwich has a walking trail that will take you across a salt marsh and over some spectacular dunes to another amazing beach.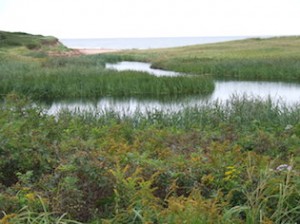 You can tour lighthouses in Souris and East Point.  You may also want to take in some of the many festivals while you are here. The P.E.I. Bluegrass and Old Time Country Music Festival at the Rollo Bay Fiddle Festival Grounds. The Rollo Bay Festival follows soon after. There are concerts held all summer long, put on by Souris Live Inc., The Kings Theater in Georgetown and The Kaylee Hall in Pooles Corner, featuring some of the best musical talent P.E.I. has to offer. Check out our many gift shops – we have many very talented local artisans and their wares can be see at Artisans on Main in Souris and Montague.  The people here are very friendly and are excited to share what is going on in their communities. I wouldn't want to live anywhere else. So let me show you some of my favourite places to wet a line.
Your adventure awaits!
Please contact us for bookings and specific tour information.
---
Need Accommodations?
---
Try Bunkin' at the Beach in our charming, solar powered, off the grid bunkhouse, only steps away from a beautiful beach on the Island's North Eastern shore!

Not your style? Please check out these other fine local accommodations or feel free to contact us for more recommendations.
---